The lead of the WeMAST (Wetland Monitoring and Assessment Service for Transboundary Basins in Southern Africa) consortium, SASSCAL, met with the African Union (AU) delegation, implementing the GMES and Africa Support Programme, which is jointly funded by the AU and the European Commission. The purpose of the milestone meeting was a follow-up meeting of the midterm review in February and aimed on gauging progress on the development of the WeMAST service and adapting its workplan in line with setbacks created by the world-wide COVID‑19 pandemic, which resulted in an extension of the GMES and Africa programme of 3 months.
Due to current travel restrictions, the meeting was facilitated by an online video conferencing medium. SASSCAL (Southern African Science Service Centre for Climate Change and Adaptive Land Management) was represented by Dr Jane Olwoch, the SASSCAL Executive Director, and her team of experts assigned to the WeMAST project, while the African Union delegation was head by Dr Tidiane Ouattara, the Space Science Expert of the GMES and Africa Support Programme Management Unit and his team of scientific and administrative experts.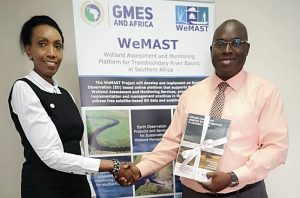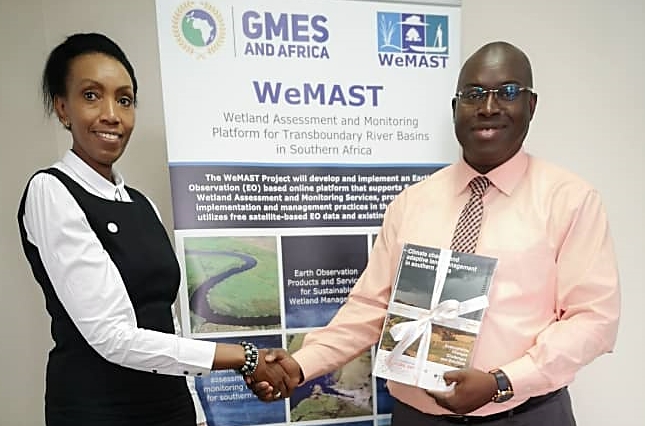 While setbacks have been encountered by the COVID-19 pandemic, in terms of travel restrictions and mobility, affecting WeMAST's progress on field work and engagement with local wetland communities, the WeMAST development team could report on good progress made on the development of the WeMAST portal. However, challenges and opportunities regarding the progress and delays were discussed in an open and constructive dialogue, resulting in an agreement of an updated work and finance plan as well as an updated log frame. Furthermore, the conditions of a private sector engagement were clarified, allowing WeMAST to collaborate stronger with the private sector in the development of the relevant products and services.
With the strong support of the AU delegation and its partner consortium of leading earth observation experts from the NRSC (National Remote Sensing Centre) and SANSA (South African National Space Agency) and is further supported by expertise from key universities in the region, the University of Botswana (UB), Cape Peninsula University of Technology (CPUT), Midlands State University (MSU), University of Western Cape (UWC) and the University of Zambia (UNZA), , SASSCAL is confident that the development of the WeMAST service will remain on track.
Once fully developed, the WeMAST platform will provide products and services that support the monitoring and assessment of wetlands, ascertains, with the use of wetland indicators, the changes in the wetlands and provide insight into wetland degradation and change, by using, amongst other, climate, vegetation, land cover and water quality indicators. As part of the WeMAST service, a climate service is also in development that provides information on the trends and variability of the four basins' rainfall regimes. First products and analyses already suggest that part of the region has been subjected to the driest years recorded in almost 40 years.